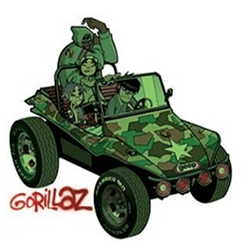 Ok, so the TimeWarp's from now until Halloween will all be Halloween themed, so this was already one of my favorite songs from Gorillaz and was/is one of the bonus tracks that was on the self-titled debut from 2001.
ANNNNNNNNNNNNNNNNNDDDDDDDD, Damon Albarn welcomed Blur guitarist Graham Coxon to the stage to cover the band's "Song 2", during Gorillaz's headline set at Demon Dayz Festival last weekend in LA
The collaboration marked the first time Gorillaz – Albarn's band, fronted by a group of animated characters – had covered a Blur song live. The encore performance of "Song 2" started off in a synth-heavy, Gorillaz-appropriate tone, before Coxon jumped in mid-song and launched into the more familiar version of the 1997 hit, guitar in tow.
Alban and Coxon had not performed together since Blur's The Magic Whip reunion show in 2015.