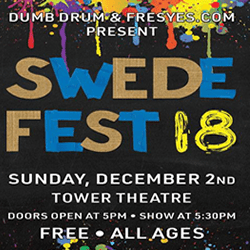 One of THEE best events in the New Rock Nation happens this Sunday at the Tower Theater with Swede Fest 18. Our dudes from Dumb Drum be playing about twenty sweded films on the big screen. (A sweded" film is like a short home-remake of a real film, but as low budget as you can get: Like you can make a swede right now as you listen to this. With your phone)
Bryan Harley and Roque Rodriguez, are in the Afternoon Buzz talking all things Swede Fest 18 and the history of 10 years of this event. Check it out below!
Swede Fest is a free event, open to all ages, that will take place THIS Sunday, December 2 at the Tower Theatre. Doors open at 5 p.m. and the event begins at 5:30 p.m.
AND still one of my favorite Swedes is below, check it out and get in for next year! And see you Sunday