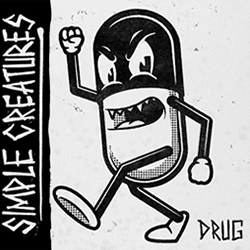 Not sure where they found the time, but Blink-182's Mark Hoppus and All Time Low's Alex Gaskarth  have now teamed up for a new project called Simple Creatures, and this week shared their debut single called 'Drug'. The more I listen to it, the more I like it. A lot actually.
Hoppus said of the release, "'Drug' is always the first song we play people when introducing them to Simple Creatures, so it only makes sense that it's the first single. I love the ratty guitar lead mixed with the thumping kick drum."
Gaskarth offered his own take via Instagram: "In the studio it felt immediately like it was the song that best defined Simple Creatures: it's gritty, grimy, rooted in the musicality we both came up on, but with a twist that takes it away from anything we've worked on before."
Watch the animated lyric video for "Drug" below.