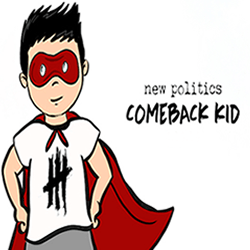 Hey! Brand new New Politics music! It's called 'Comeback Kid' and the full info on the song, shows, and the video from the band are all below. Excited for the dudes to be back with new music.
Comeback Kid commemorates New Politics' 10 year anniversary as a band.  Over the last decade the Danish Alternative rock trio, featuring David Boyd, (lead vocals, guitar), Søren Hansen, (bass guitar, guitar, vocals) and Louis Vecchio, (drums), have delivered a half dozen Modern Rock Chart Topping Hit Singles including the Top 10 singles, One Of Us and Harlem!
Comeback Kid will be the featured ESPN Song Of The Month FOR the month of May
New Politics will be celebrating their 10th anniversary with a half dozen "intimate" fan shows in Brooklyn, Boston, Chicago, Denver, Sacramento and Los Angeles.
They will announce their US Fall tour and Fall Album Release this summer!
New Politics 10th Anniversary Fan show
6/28/19 – Holy Diver – Sacramento, CA
6/29/19 – The Roxy – Hollywood, CA