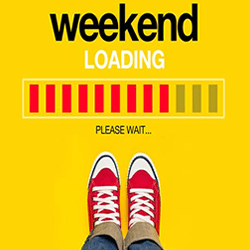 Here are some options for the Memorial Day weekend to go along with our New Rock BLOCK PARTY weekend that kicks off at 5pm Friday
New Releases in Theaters:
Booksmart- An unfiltered comedy about high school best friends and the bonds we create that last a lifetime. Capturing the spirit of our times, the film is a coming of age story for a new generation.
Aladdin- A street urchin teams up with a wisecracking genie to save an exotic kingdom from an evil sorcerer. Stars Will Smith.
Brightburn- An alien that looks like a human boy uses its mysterious powers in sinister and destructive ways. Produced by James Gunn. Stars Elizabeth Shue.
Click here for movie info, show times, reviews and more.
Other Options:
It's Memorial Weekend! Enjoy the Block Party Weekend of music and an extra day off but please don't forget the reason for all of it. Take a moment to be grateful for the service men and women of this country, their families and their sacrificies on our behalf.