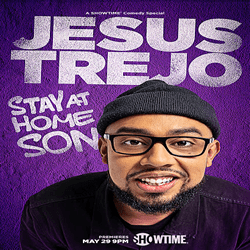 Comedian Jesus Trejo stopped by the Drew Show to talk about the PREMIERE of his FIRST SHOWTIME Comedy Special, "Jesus Trejo: Stay At Home Son" – check it out below.
Filmed at the El Portal Theater in North Hollywood, the HOUR-LONG special is full of candid humor as Trejo gives us a front-row seat into his amusing family dynamics.  An only child of immigrant parents, Trejo learned many life lessons in some of the most unconventional ways.  From running his first marathon to winning his first fight, "Jesus Trejo: Stay At Home Son" explores the lengths he'll reach to meet his parents' expectations.
View a clip from the special HERE.
Jesus is one of the fastest rising names in the stand-up comedy scene. He can be seen recurring as the role of Mr. Trujillo on the Netflix series "Mr Iglesias," and in roles on "Alone Together" (Freeform) and "Teachers" (TV Land).  He is also the host of "Tacos Con Todo," the newest web series from Complex/First We Feast (Hot Ones) in which he navigates the LA taco scene with celebrity guests.