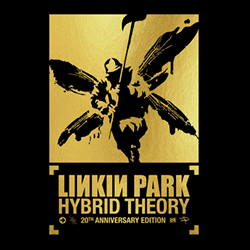 Linkin Park is turning back the clock in celebration of their record-breaking debut album Hybrid Theory turning 20 with a special-edition reissue coming out Oct. 9 via Warner Records.
The band already got the party started by releasing one of the never-before-heard demos from 1999 "She Couldn't"- you can listen to it below
Released in October 2000, Linkin Park's groundbreaking debut album Hybrid Theory is a melting pot of heavy alternative rock, hip hop and electronic flourishes, and was instrumental in creating a new genre of music. Linkin Park inspired a generation of dedicated fans and also influenced many bands who related to the intense and emotional musical style.
Hybrid Theory included three hit singles ("One Step Closer", "Crawling", and "In The End") and was the best selling album of 2001 in the US. The album has since exceeded 11 million sales and it earned the band's first Grammy Awards for "Crawling" as Best Rock Performance.
To celebrate 20 years since the original release, Hybrid Theory: 20th Anniversary Edition will be released on October 9th 2020. The super-deluxe box set included unreleased and hard-to-find material on 5 CDs, 3 LPs, 3 DVDs, and a cassette – plus an 80-page book, poster, 3 lithographs, tour laminate, and a download card.
A 3-LP vinyl box set; and a 2 CD deluxe edition will be available, plus all the audio will be released digitally.