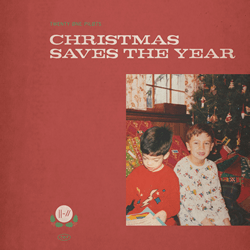 If going to listen to Christmas/holiday music, might as well be from some of our favorite New Rock bands. LIKE Twenty One Pilots. And yes, they dropped a Christmas song. ALL the official info is below along with the song, called 'Christmas Saves the Year'. Check it out.
GRAMMY® Award winning duo Twenty One Pilots have shared a surprise holiday single, "Christmas Saves The Year," which is available today on all streaming platforms.  The new song is joined by an accompanying visual, directed and animated by Johnny Chew, streaming now on Twenty One Pilots' YouTube channel.
"Christmas Saves The Year" closes out another landmark year for Twenty One Pilots, which once again saw them dominating radio airwaves. Their 2020 hit single "Level of Concern" held the #1 spot at Alternative Radio for 12 weeks straight, while also cracking the Top 25 on Billboard's "Hot 100" chart. Written and recorded amidst the COVID-19 pandemic, "Level of Concern" has amassed nearly 200 million streams around the globe, achieved RIAA Gold certification, and propelled the band to victory at this year's American Music Awards where they took home the award for "Favorite Artist – Alternative Rock."  Furthermore, Twenty One Pilots made history with the first-ever, never-ending music video for "Level of Concern," conceived by the band with award-winning storyteller and director Jason Zada, Rolling Stone called the video, "an elaborate and impressive digital feat in and of itself," while Variety spoke to Tyler Joseph of Twenty One Pilots in-depth about the regenerative visual energized and populated by fans and powered by Imposium.
"Christmas Saves The Year" and "Level of Concern" are the latest singles from Twenty One Pilots following the release of their RIAA Platinum-certified album TRENCH.  "TRENCH revels in the confounding genre-blurring and cavernous conceptualism that has defined Twenty One Pilots," declared Billboard. A true global phenomenon having surpassed two billion streams worldwide, TRENCH is highlighted by the RIAA Gold and Platinum certified alternative hits "The Hype," "Chlorine," and "Jumpsuit." "Jumpsuit" stands as the decade's fastest rising song to reach #1 on Billboard's "Alternative Songs" chart and earned the duo their fourth GRAMMY® nomination (Best Rock Song). The acclaimed conceptual collection also features the RIAA Gold-certified "Nico And The Niners" and the RIAA Platinum-certified single "My Blood."