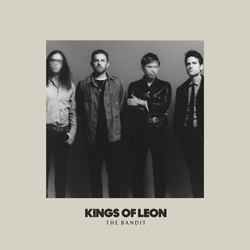 Kings Of Leon are back with a new album is on the way. It's called When You See Yourself and is due out in March. In anticipation of their first full-length in five years, the alt-rockers are sharing two new songs, "The Bandit" and "100,000 People".
In the lead-up to today's unveiling, the Nashville-bred group sent out 10 one-of-a-kind shirts to superfans, each representing a different song on the new album. "Only you, and no-one else, will ever have this collective piece," read an accompanying note, as American Songwriter points out. "Printed inside of it are the full lyrics to a new song you may hear in a couple of days, a couple of weeks, or maybe even a month or so." An 11th shirt, featuring "The Bandit" lyrics, will be available for purchase on Kings of Leon's merch site.
Stream the two singles below; "The Bandit" is accompanied by a music video featuring the band members dressed up in fancy suits, with '100,000 People' being just the audio.
When You See Yourself  is officially due out on March 5th.