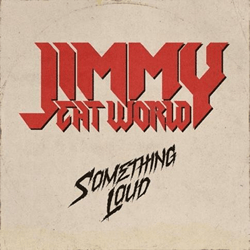 Jimmy Eat World say they're in a better position than ever as they launch their new track Something Loud. You can watch the video below.
They're proudly "sans-label and creatively invigorated with no one to answer to but themselves" as they gear up for a run of tour dates over seas this summer, plus some US dates which are below.
"While I thought I made the most of the early band days, I realize now I missed some stuff," vocalist and guitarist Jim Adkins said. "You're in such a hurry to grow out of the formidable years. Like shit-togetherness is going to magically arrive when you hit some age you thought 'grownups' were.
JIMMY EAT WORLD 2022 TOUR DATES
with Charly Bliss
* = Festival Date
August 19 – Denver, CO – KTCL's Big Gig*
September 8 – Cleveland, OH – Rock Hall Live
September 9 – Columbus, OH – KEMBA Live!
September 10 – Pittsburgh, PA – Four Chord Music Festival*
September 11 – Detroit, MI – Saint Andrew's Hall
September13 – Minneapolis, MN – First Avenue
September 14 – Kansas City, MO – Uptown Theater
September 16 – St. Louis, MO – The Pageant
September 18 – Chicago, IL – RiotFest*
September 20 – Richmond, VA – The National
September 21 – Wantagh, NY – Mulcahy's Pub and Concert Hall
September 23 – Sayreville, NJ – Starland Ballroom
September 24 – Providence, RI – The Strand Theatre
September 25 – New Haven, CT – Toad's Place
September 26 – Burlington, VT – Higher Ground
September 28 – Albany, NY – Empire Live
September 29 – Toronto, ON – History
October 1 – Ocean City, MD – Oceans Calling*
October 22 – Las Vegas, NV – When We Were Young*
October 23 – Las Vegas, NV – When We Were Young*
October 29 – Las Vegas, NV – When We Were Young*