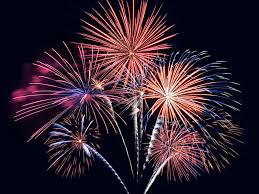 There are LOTS of options.
Fresno County
Wild Waters Star Spangled Revue
July 4th & July 7th
Fireworks at dusk
A spectacular patriotic show with dazzling fireworks, smoke, lasers and live music.
Fresno Grizzlies Independence Day Bash
July 4th
Game starts at 6:35 p.m.
Fireworks included in game admission and follow the game.
Kerman Festival of the American Fireworks Show
July 3rd
Gates open at 6 p.m.
Fireworks at dusk — approximately 9:20 p.m.
Kerman High School Stadium
Food, Children's Activities, Entertainment, Miscellaneous Vendors. Lawn chairs and blankets allowed in the stadium; NO ICE CHESTS ALLOWED.
Admission: $6 Adult $3 Child 4-10
Kingsburg Independence Celebration
July 3rd
6 p.m.
Kingsburg High School Stadium, 1900 18th Ave., Kingsburg
Old-fashioned celebration with fireworks and food; NO ICE CHESTS, ALCOHOL OR DOGS ALLOWED.
Admission $5 Adult $3 13 and under
Selma's July 3 Independence Celebration
July 3rd
Gates open at 6pm.
Selma High School Stadium, 3125 Wright St., Selma.
Entertainment, games, food for sale, and fireworks.
Admission: $5 Adult, $3 Child (6 to 12), Children 6 & under FREE
Parking $2
Clovis Freedom Fest
July 4th
Gates open 4 p.m.
Fireworks at 9 p.m.
Lamonica Stadium, Fowler & Barstow, Clovis.
Admission $5, Children 5 & under FREE
Fowler Fabulous 4th of July Celebration
July 4th
Gates open at 5:30 pm
Fowler High School Stadium, 701 E. Main St.
Free Admission
NO ICE CHESTS OR OUTSIDE FOOD
Sanger Independence Day Spectacular
July 4th
Gates open at 6 p.m.
Parking: $10 (includes 4 tickets)
Admission: $3
Fireworks at 9 p.m.
Sanger High School Athletic Field, 1045 Bethel
Caruthers High School Fireworks
July 3rd
Anderson Field at 9 p.m., Gates open at 6 p.m.
Parking $10
Island Water Park Fireworks Extravaganza
July 4th starting at dusk.
Kings County
Celebrating America – Fireworks Show
July 4th
Gates open at 5 p.m.
Bounce houses, food & drink booths, and music
Kings Fair on 10th Ave
Avenal Independence Celebration
June 30th
6 p.m.-10 p.m.
Fireworks begin at 9 p.m.
Admission is FREE
Avenal Sports Complex
Madera County
Fireworks at Bass Lake
July 4th
9:00 p.m.
Free Admission
Bass Lake
Chowchilla "Red, White & Boom" Fireworks Festival
July 7th
Gates open at 7:00 p.m.
Fireworks at 9:00 p.m.
Free Admission
Chowchilla Fairgrounds, 25184 Road 16, Chowchilla, CA
Tulare County
Woodlake July 3rd Blast
July 3rd
6:00 pm to 9:00 pm
Fireworks at dusk
Free admission
Miller Brown Park, Woodlake
Dinuba Independence Day Celebration
July 3rd
Event starts at 6:30 p.m.
Live entertainment at 7:30 p.m.
Fireworks at 9:15 p.m.
Centennial Park in Dinuba.
No alcohol allowed on park premises.
Exeter Celebration
July 4th
Pancake breakfast 7:00 a.m. to 10:00 a.m.
Exeter City Park, Chestnut and E
Free Admission
Fireworks at dusk at Lions Stadium
CASA of Tulare Co Independence Day Festival
July 4th
2:00 p.m. – 10:00 p.m.
Groppetti Stadium
Pool access, water slides, food booths start at 2:00 p.m.
Firework show at approximately 8:30 p.m.
Tulare Kiwanis 53th Annual Fireworks show
July 3rd
Gates open at 6:00 p.m. and fireworks start at dusk
Tulare County Fairgrounds
Admission: $5 per person, 5 and under is free
No ice chests or alcoholic beverages are allowed.
For more information, click here.
Porterville Freedom Fest
June 30th
Porterville Sports Complex
2701 W. Scranton Ave.
Gates open at 4:00 p.m.
General Admission $10 presale/$15 day of
Parking pass $20 (presale only)
For more info, click here. Source: ABC30.com